---
Nandansons and NYU Langone Pediatric Virtual Urgent Care Update

BACKGROUND
In 2017, NYU Langone began a pilot Virtual Urgent Care program for employees and their families. The benefits of this delivery system soon became clear: Early data showed that for certain familiar and irritating symptoms,seeing one's provider in the office was often less consequential than obtaining a speedy and reliable answer.
By making it easier to seek and obtain medical care, the expansion of virtual care has the potential to provide
broad benefits as a population health management strategy. And as part of NYU Langone's dedication to patientcentered care, the virtual urgent care model has helped to reform the cost of care and provide lower-cost
alternatives to our patients.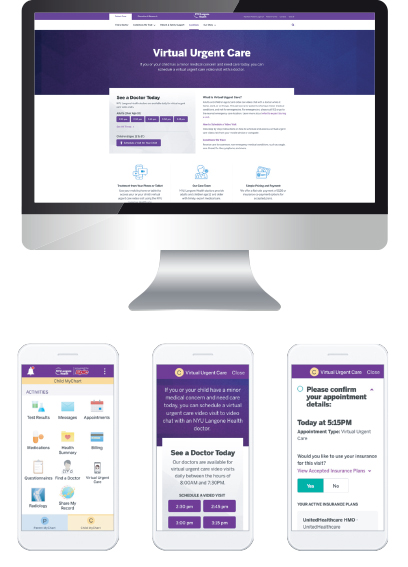 OUR PROGRESS
With your support, NYU Langone Virtual Urgent Care expanded to care for children ages 12 and up in October 2018. Parents with established MyChart proxy access can now log into the NYU Langone Health app, schedule their child's Virtual Urgent Care appointment, and see a doctor within minutes.
For parents without MyChart proxy access, we recently developed a novel  approach that allows parents to obtain temporary proxy access for 72 hours to complete the Virtual Urgent Care visit; this supports both established and new NYU Langone patients. If needed, parents can call the MyChart Help Desk call center, where the agents have been specially trained to schedule the child's appointment in Epic—our medical records system—and secure proxy access for the parent. After scheduling, the parent can complete the online check-in process and connect with the physician.
FEEDBACK
The response from parents and providers alike has been extraordinary. Our users include not only established NYU Langone patients, but also out-of-town visitors who discovered the Virtual Urgent Care service while visiting New York City.
In a post-visit survey, one parent remarked:
"The doctor was extremely responsive and able to help us find a location to send the prescription immediately (we are visiting NYC from the west coast). The Rx was sent immediately and we had it in hand 30 minutes after the visit. Thank you!"
As a result of the success of the Pediatric Virtual Urgent Care pilot, the Department of Emergency Medicine is now partnering with the Department of Pediatrics to expand the NYU Langone Virtual Urgent Care service to care for children ages 5 and up. Through this partnership, the Virtual Urgent Care general emergency medicine physician will evaluate each child, leveraging multi-party video to allow a pediatricemergency medicine specialist to join the video visitas a specialized, third-party consult. This expanded service will begin in April 2019 and will include digital marketing via e-mail, social media, and search engine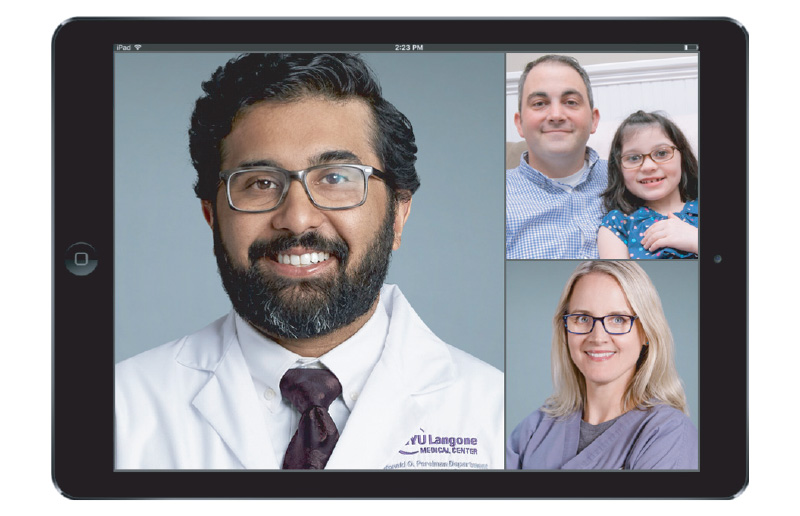 optimization, as well as close partnerships with our NYU Langone pediatric practices to encourage referrals to Virtual Urgent Care when the patient's primary doctor is unavailable (e.g., after hours or on weekends).
FUTURE DEVELOPMENT
As a part of the Virtual Urgent Care pediatric expansion last year, we learned that there are significant barriers to obtaining MyChart proxy access across the health system as a whole. As a result, MCIT is partnering with the Department of Pediatrics to deploy an online process for requesting and obtaining proxy access to MyChart, which we are confident will substantially increase the utilization of Epic's MyChart proxy tools for both children and adult patients. Other Epic customers across the country have implemented similar processes with resounding success. We expect this online process to go live in the summer of 2019.